Rules for authors
Properly formatted articles reduce turnaround time, and make the work of the editorial staff easier!
RULES FOR AUTHORS
(THE SCHEME OF WORK OF THE EDITORIAL BOARD WITH AUTHORS)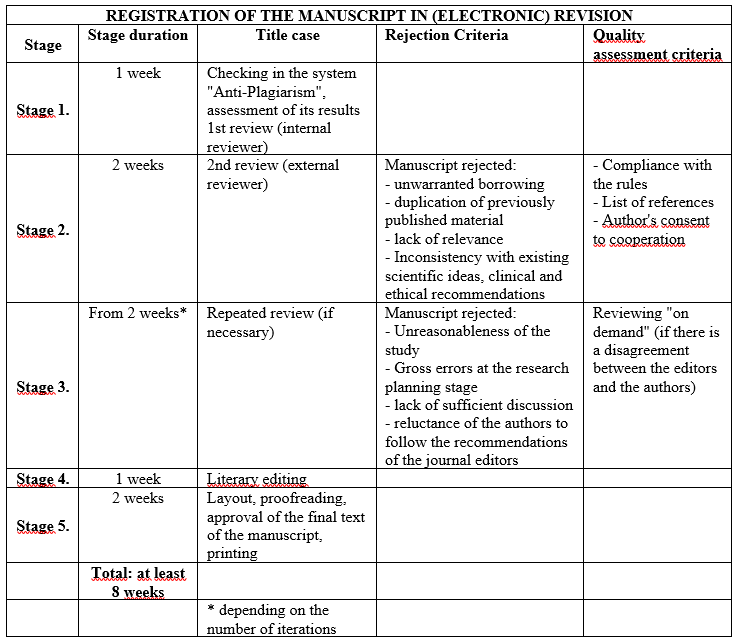 REGULATIONS REGARDING THE TIME FOR AUTHORS TO MAKE CORRECTIONS TO THE TEXT OF MANUSCRIPTS
Authors have 2 weeks to make corrections and/or respond to reviewer and/or scientific editor comments.
If the authors need more time, then during the first 2 weeks they must (!) inform the editor about it. At the same time, the total time from the moment they send their comments to the receipt of the corrected version of the manuscript cannot exceed 4 weeks.
This procedure is relevant for each round of interactions with authors in the review/editing process.
The total time for preparing a manuscript cannot exceed 12 weeks.
Thus, the manuscript may be withdrawn from consideration if:
There is no response from the authors after the first 2 weeks from the moment they sent the comments of the reviewer / editor;
The delay of the manuscript from the moment the reviewer/editor comments are sent to the authors will be more than 4 weeks;
The total time for preparing the manuscript will exceed 12 weeks.
The authors will be notified by e-mail about the removal of the manuscript from further consideration.
For any questions, authors are always welcome to contact the editorial office.